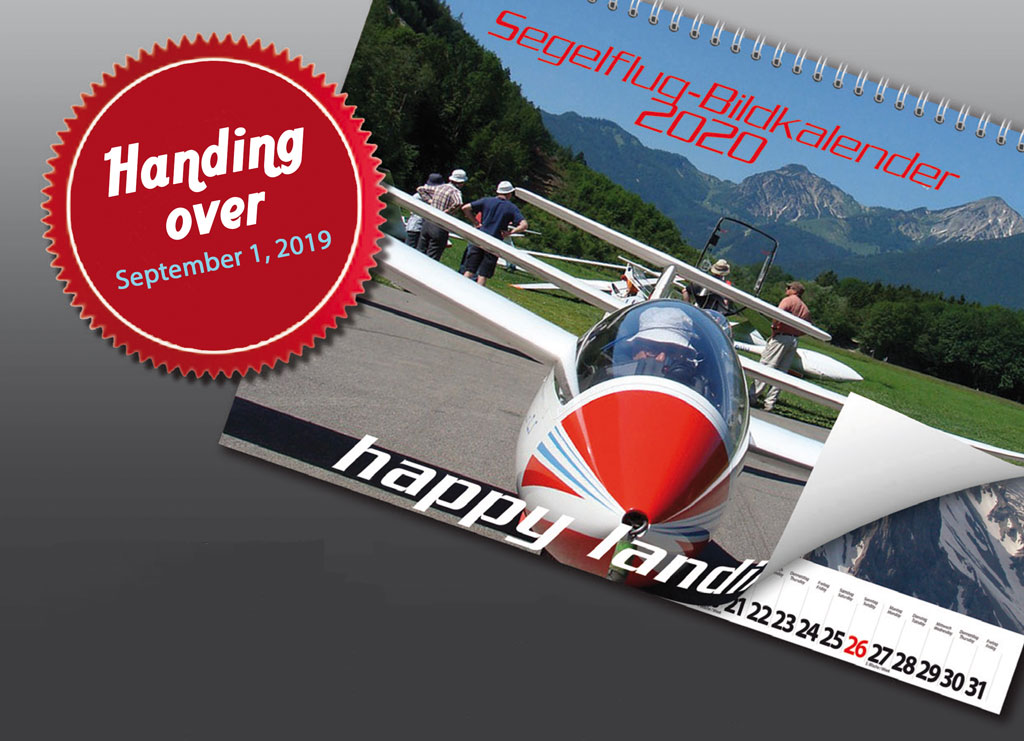 Handing Over the Calender
Nineteen years ago I acquired the internationally acclaimed annual Soaring Calendar from the then publisher Bauverlag of Wiesbaden. Since then, the annual Soaring Calendar flew on to continued success, supported by numerous amateur and professional photographers. With the support of its readers, our calendar now has an amazing 50-year track record, for which we offer our heartfelt thanks.
50 years Soaring Calendar - thank you!
For personal reasons it is now time for me to pass the baton to the next generation; and I am delighted that Brigitte Gabler of publishers Gabler-Verlag in Switzerland has picked it up. Frau Gabler also publishes the magazine Segelfliegen and completely shares my and your wish for high quality and content.
With effect from 1 September 2019 the Gabler Verlag will deal with all aspects relating to orders for the calendar. You as a customer will benefit greatly from Frau Gabler's publishing experience. The 2020 issue of the Soaring Calendar has been produced by my regular team of helpers, though this year there can unfortunately be no Junior Soaring Calendar. I wish you continued enjoyment from this delightful product and Frau Gabler all success.
Brigitte Gabler
gabler media
Grabenstrasse 19
CH - 8865 Bilten - Schweiz
This email address is being protected from spambots. You need JavaScript enabled to view it.